Myrtle Beach Charter Fishing
Ocean Isle Beach is in close proximity to another popular vacation destination, Myrtle Beach. Next time you're in the Grand Strand area, check out a Myrtle Beach charter fishing trip with Capt. Kyle Hughes. Capt. Kyle specializes in inshore fishing throughout the Ocean Isle Beach and Myrtle Beach area, and every where in between. His prime location of being 30 minutes north of the Grand Strand vacation destination gives Capt. Kyle the ability to maximize the inshore fishing charter experience for vacationers and residents alike.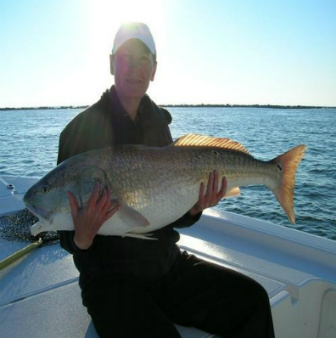 Whether you are a novice fisherman, or as experienced as Capt. Kyle himself, a charter fishing trip is a guaranteed good time. Not only can you hope to catch the best species that the Myrtle Beach waters have to offer, but you'll have the opportunity to explore the beautiful marshes, tidal rivers, creeks and inlets that are unique to this particular area of the coast.
Capt. Kyles Myrtle Beach fishing charters include fishing for Redfish, Speckled Trout, Flounder, Spanish Mackerel, Bluefish and Sheepshead. He specializes in putting his guests on the action, where the fish are biting that day! However, Capt. Kyle isn't just about catching; he also wants to instill lifelong fishing skills in his customers and considers himself a teacher too. It's the ideal way to spend a day when vacationing in the Myrtle Beach area. His charter fishing trips in Myrtle Beach start out from his dock, which is just a short 30 minute drive from the Grand Strand. Capt. Kyle is a lifelong resident of the Brunswick/Horry County areas, and he knows these waters like the back of his hand. Why not get out on the water with the best of the best?
Capt. Kyle welcomes the whole family on his charter fishing trips, children included. He realizes the importance of a well-rounded family vacation and the fond memories that a day of fishing can provide. In fact, he attributes his childhood fishing experiences to why he wanted to become a Myrtle Beach fishing charter captain, among the many other areas he covers.
It's time to hop aboard the Speckulator with Kyle Hughes and see what the whole experience is about. Depending on conditions, you could be fishing anywhere in between the South Brunswick and Myrtle Beach areas, all of which Capt. Kyle is extremely familiar with. Although different times of the year promise action from different fish, Capt. Kyle will certainly take you where the action is going off.
Heading to Myrtle Beach soon? Interested in a Myrtle Beach fishing charter? Call Capt. Kyle today at 910-840-7186 and let your charter fishing trip begin.